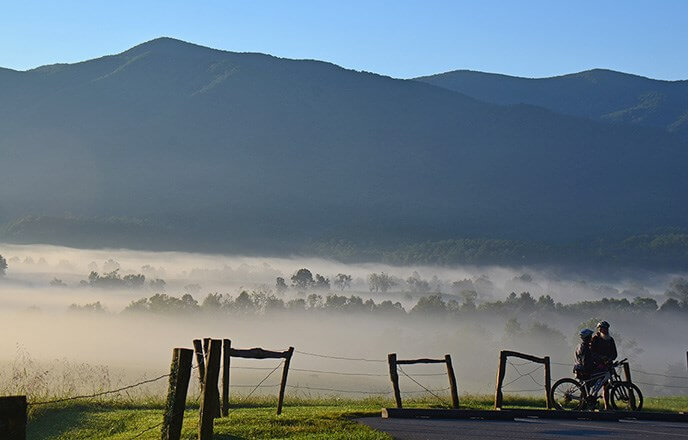 Whether you go camping, glamping, or RVing at Little Arrow Outdoor Resort in Townsend, Tennessee, you can be certain of one famous line: so much to do, so little time!
There is NEVER a shortage of fun adventures when you're located right on the doorstep of the most visited national park in the United States. We've featured many of these activities in past blogs such as nearby attractions, the best hikes, interesting educational activities, and tasty Townsend eateries, but what if you're looking for an experience completely unique to the Smokies? We've got 'ya covered… read on for five of the best one-of-a-kind experiences in the Great Smoky Mountains National Park.
Relive History at Newfound Gap
Visit the very spot where President Franklin D. Roosevelt dedicated the Great Smoky Mountains National Park: Rockefeller Memorial at Newfound Gap, which sits at the borders of Tennessee and North Carolina.
Ride a Bike Around Cades Cove
Experience up-close the sights, smells, and sounds of one of the most scenic areas of the Smokies via bicycle. The 11-mile Cades Cove loop is closed to cars every Wednesday between May 4th and September 28th, and visitors can rent or bring their own bikes for a leisurely ride.
Immerse Yourself in Nature at the Sugarlands Visitors Center
In addition to a robust gift shop and bookstore, the Sugarlands Visitors Center offers an amazing museum filled with exhibits of wildlife and vegetation native to the Smokies, along with a theater featuring a film about the history and the beauty of this ancient mountain range.
Take a Dip in the Townsend Wye Swimming Hole
Located less than a mile from Little Arrow Outdoor Resort, the popular Townsend Wye Swimming Hole offers a cool and refreshing mountain oasis for vacationers of all ages.
Follow in the Footsteps of Early Smoky Mountains Residents
Over 90 preserved historic homes and structures, many of which are listed on the National Register of Historic Places, provide insight into the lifestyles and communities of the area's earliest inhabitants.
Go for a Spin Around the Roaring Fork Motor Nature Trail
The 5.5 mile, one-way Roaring Fork Motor Nature Trail features breathtaking forest views alongside its rushing namesake stream. Should you decide to park and stretch your legs, you can explore historic buildings and access two popular hiking trails. 
We hope your
next stay
at Little Arrow Outdoor Resort will include some (or all!) of these activities that are exclusive to our special mountain retreat. The choice is yours as to how you spend your days here: full of activity, or restful and renewing; connected to the outside world, or completely unplugged. Our beautiful Smoky Mountains environment can fulfill all your vacation wishes. See you soon!