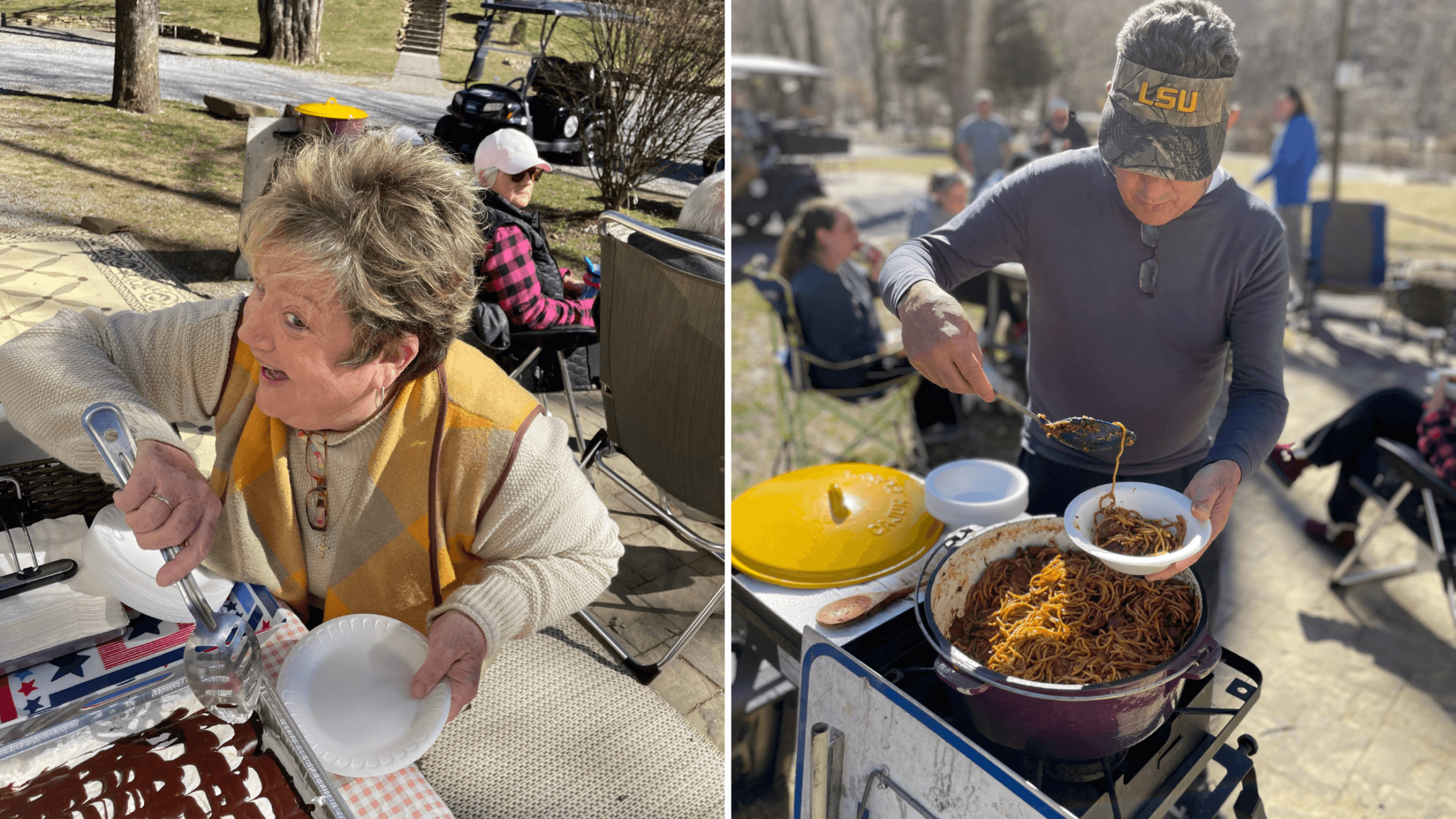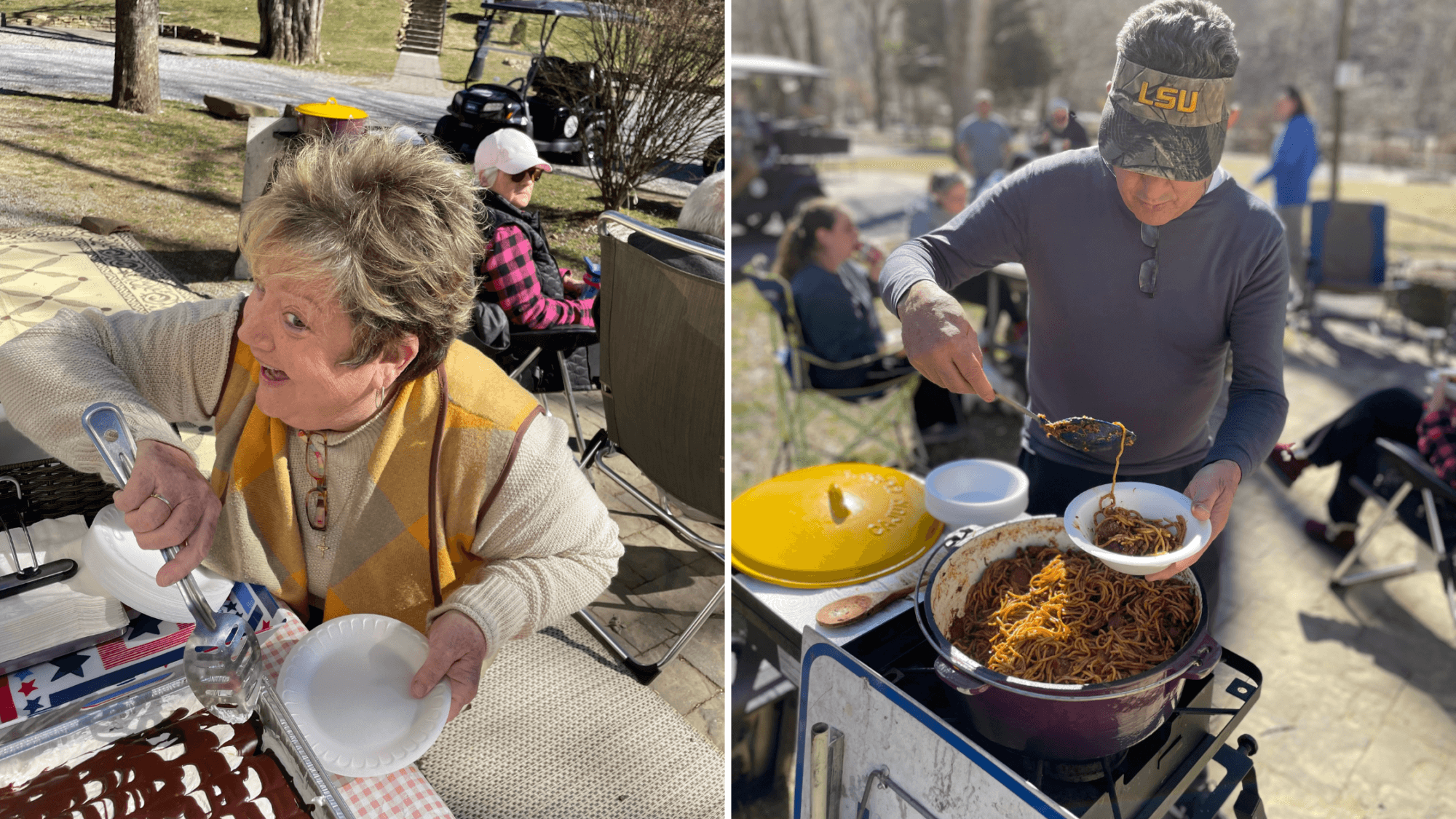 Mealtime while you're camping doesn't have to be boring… just ask Little Arrow Outdoor Resort RVers Floyd and Rhonda Coye. The Port Allen, Louisiana couple are camping veterans, and have been
regulars at Little Arrow
since the resort opened in 2018. We talked to Rhonda about the couple's campground cooking habits, which we have deemed "glampground cuisine".  Read on to learn how, when, and why their delicious dishes have become legendary around these parts!
How many years have you gone camping, and when did you begin RVing? Were there any transitions in between? (tent, to pop-up, to RV, etc.)
Floyd and I began tent camping when our older two children were just two and three years old. After our next two children were born, we continued tent camping. That tradition lasted 35 years. In 2017 we purchased a brand new travel trailer as a retirement gift to ourselves. The following year (and seventeen camping trips later), we upgraded to a new fifth wheel, which we still have today.
Making good food is a priority for your camping trips. Why is it so important?
If we are going to camp, we want the entire camping experience. For us, that means spending time at the campground while cooking and making new friends. Being from Louisiana, every event we celebrate involves food. Camping is no different; it's an opportunity for us to share our food, our culture and our love. 
How do you acquire the groceries you need? Do you bring things with you, shop on location, or both?
I do most of my shopping before I leave home. I have a huge upright freezer which contains everything from homemade soups, stews, casseroles, venison, chicken, fish, shrimp, frog legs (did I mention we're from Louisiana), leftovers, and some convenience foods. It's easy for me to shop right there in my freezer, grabbing whatever I need or might want. Also, my pantry in the fifth wheel stays well stocked with condiments, spices, baking supplies and other staples. If we need something fresh such as eggs, fruits or vegetables, we will usually make a Walmart run in whatever city we're traveling to.
You travel with some great cooking equipment. If a camper was to invest in one thing, what would it be, and why? What about an RVer? 
For a beginning tent camper, I would recommend a good cast iron skillet and Dutch oven. Then learn how to use them! There really is an art to learning the true method of Dutch oven cooking. And it's fun!
We still travel with our cast iron cookware, but the best investment we've made for cooking as an RVer is the Blackstone griddle. It's so versatile! My husband is the Blackstone chef while I do most of the cooking and prep inside. 
You're a big believer in using leftovers. What's the best thing about doing that?
In this day and age, with the cost of groceries, you cannot waste food. And because I love to cook, using leftovers allows me to create dishes in a whole new way. I'm always just trying to create things. I'm the most challenged when I have the fewest ingredients!
Can you describe one (or two) of your favorite, must-make recipes that you prepare while you are camping at Little Arrow? 
Well, the "favorite recipe" depends on who you ask! The Little Arrow employees love Floyd's Pastalaya and my White Chocolate Bread Pudding. However, when Floyd and I are just hanging out by ourselves, we like anything that we can grill on our Blackstone such as fresh vegetables, and smothered potatoes with sausage. Also, we enjoy cobblers prepared in our cast iron Dutch oven using charcoal briquettes. 
Having camped for over 40 years, Floyd and Rhonda Coye have perfected the art of cooking in and around the outdoors. Their Smoky Mountain visits to Little Arrow are no exception. We hope their tips and techniques will inspire your own creative recipes the next time you
vacation at the resort
. And, we don't know about you, but this blog post has made us hungry!
Rhonda Coye's White Chocolate Bread Pudding Recipe
Pudding:
10-12 cups bread, broken in pieces (not fresh bread—may use any type, including hamburger or hot dog buns)
6 eggs
1 Tbs. vanilla
2 cans evaporated milk (rinse cans w/ water but do NOT discard the water)
1/2 cup of water (reserved from rinsing the evaporated milk cans)
1/2 cup brown sugar
2 cups granulated sugar
1 small bag white chocolate morsels
1 stick butter 
In a large bowl, place the broken bread pieces. In a separate bowl, combine eggs, evaporated milk, brown sugar, granulated sugar, and vanilla. Whisk until well blended. Pour over bread pieces and stir well. Mixture should be very wet. If not, add a little regular milk. 
In a saucepan over low heat, combine butter and white chocolate morsels. Stir until butter and white chocolate is melted. (Mixture will not be smooth—that's okay.) Remove from heat. 
Pour bread mixture into a greased 9" x 13″ casserole dish. Drop large spoonfuls of the white chocolate mixture into the pudding, spacing accordingly. 
Place the casserole dish into a larger pan that contains approximately 1/2 inch of water. Bake at 375˚ for approximately 45 minutes or until center appears set. 
When pudding is cooked, remove from oven and from water bath. Cover with creamed topping.
Topping:
1 stick butter
1 can condensed milk
1 small bag white chocolate morsels
Combine all ingredients in a saucepan. Cook over low heat until butter and chips are melted and mixture is smooth. Pour over baked bread pudding.