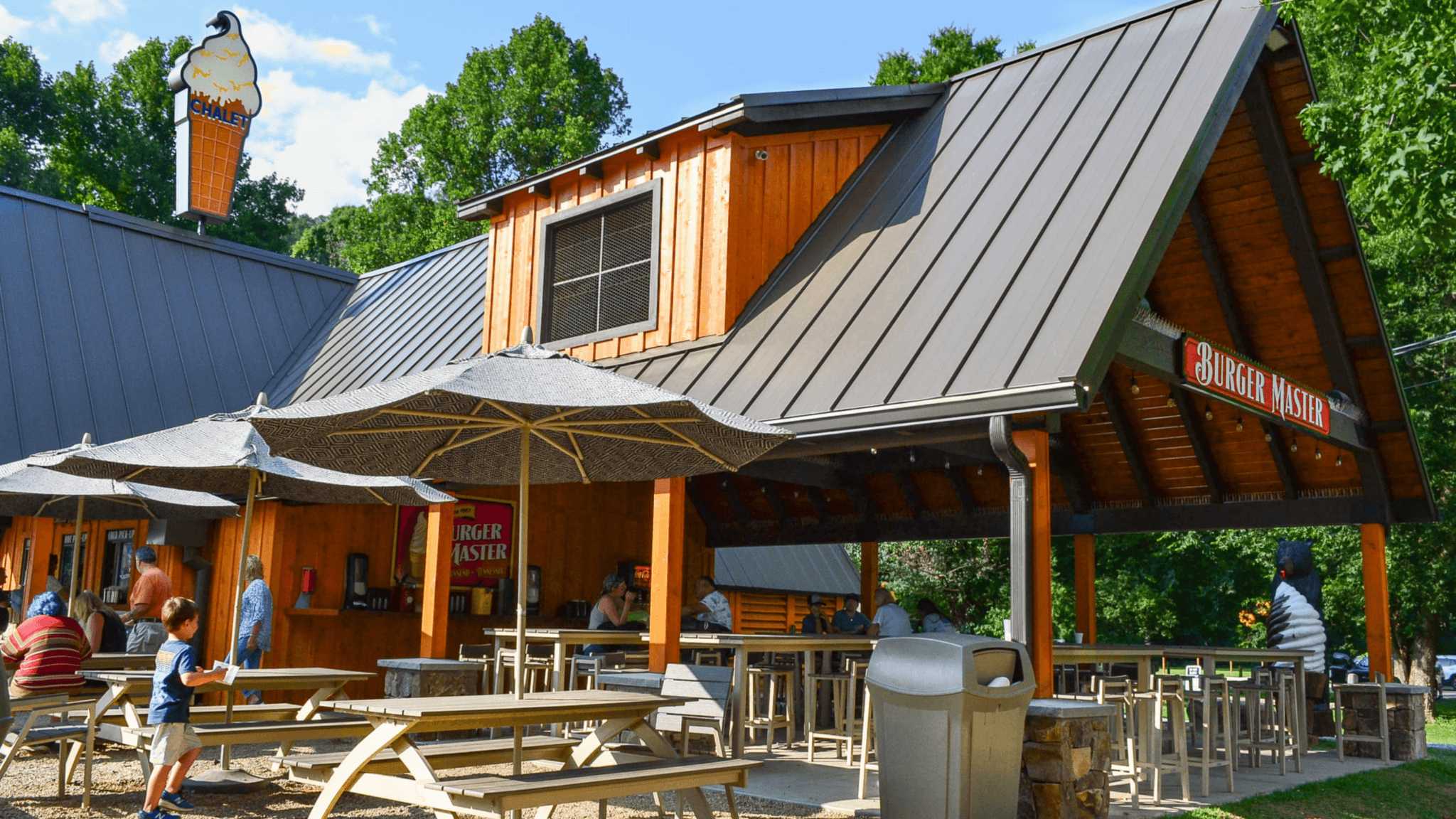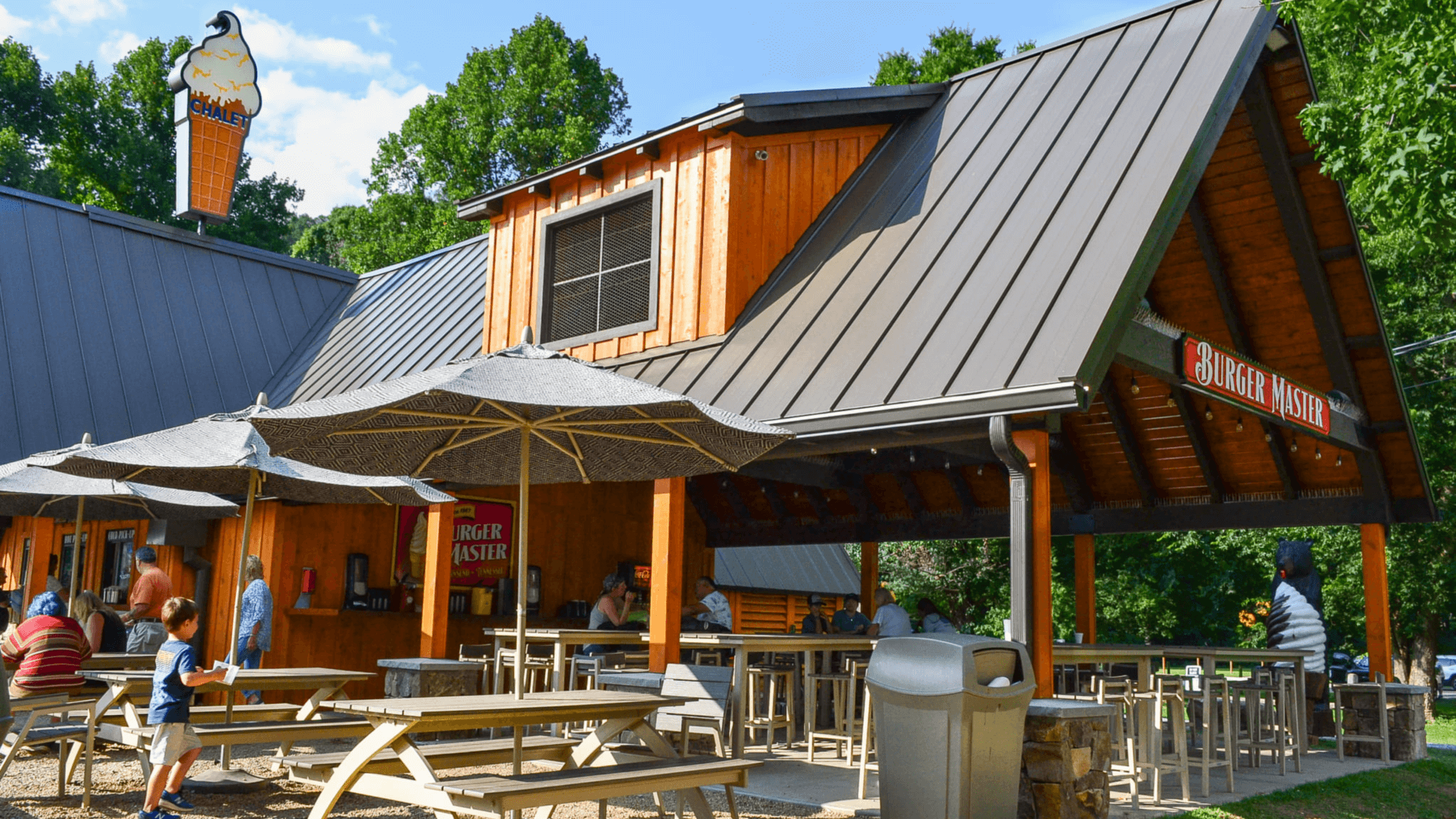 Hungry for a meal with no prep or clean-up during your camping or glamping vacation at Little Arrow Outdoor Resort? Whether you're ready to enjoy a casual lunch outside with your pups (canine and/or human), or you're in the mood for a 5-star dinner feast with your O.A.O. (One and Only), within 5 miles from Little Arrow you'll find six restaurants that will tickle your tastebuds!
Apple Valley Mountain Village & Cafe
Driving distance from LAOR: 4.3 miles
Offering a double-stack of pancakes with toppings from their amazing Pancake Topping Bar, Apple Valley Cafe serves a delicious Southern-style breakfast daily until 11 am that will wake you up with a smile. Sleeping late? No problem: a variety of burgers, fresh salads, and sandwiches await, and don't forget to order their world-famous fried apple pies topped with cinnamon and sugar for dessert!
Dancing Bear Appalachian Bistro
Driving distance from LAOR: 4.1 miles
With culinary delights inspired by the restaurant's Great Smoky Mountains surroundings, you'll enjoy impeccable service at the award-winning Dancing Bear Appalachian Bistro. Their menu features farm-to-table fresh produce grown on-site, and adult beverage selections that will please every palate. Named one of America's 25 Most Romantic Restaurants by TripAdvisor, the Bistro is the perfect getaway for two!
Little River Pub & Deli
Driving distance from LAOR: 3.1 miles
After a long day enjoying the many fun activities at Little Arrow, stop by the Little River Pub & Deli to enjoy perfectly grilled panini sandwiches along with Moonshine Meatball appetizers and a wide selection of craft beers. Indoor seating is available, but guests simply love the relaxing back patio and beer garden overlooking the Little River. Bring the whole gang – vegetarian and kid's meals are available!
Trailhead Steak & Trout House
Driving distance from LAOR: 2.1 miles
For a meal that will satisfy, try Trailhead Steak & Trout House's cooked-to-order hand-cut steaks and hearty sides, served with piping hot fresh rolls with cinnamon butter. Don't let the name fool you – along with their "legendary" trout, Trailhead offers a variety of fresh fish including salmon, shrimp, and catfish, and their unique burger creations include the Black Raspberry Brown Sugar Bacon Burger.
Peaceful Side Social Brewery + Craft Kitchen
Driving distance from LAOR: 1.8 miles
Grab fritters, a Fig and Pear Pizza, and a craft brew at Townsend's Peaceful Side Social Brewery + Craft Kitchen, where guests describe the experience as "understated decadence". Along with their chef-driven menu, the new restaurant has made preservation and education a part of their identity. With each purchase, Peaceful Side supports four Townsend non-profits: Townsend/Cades Cove Gateway Alliance, Little River Watershed Association, Tremont Institute, and Keep Blount Beautiful.
Burger Master Drive-In
Driving distance from LAOR: .5 miles
Located just across E. Lamar Alexander Parkway from the Great Smoky Mountains Heritage Center, the Burger Master serves up a pet and family-friendly casual outdoor dining experience. Overlooking the Little River, Burger Master's drive-in menu includes a variety of juicy burgers (including a veggie option) and chocolate-dipped soft-serve ice cream cones. Check their website for seasonal hours!
F
or a satisfying meal to celebrate your Smoky Mountain vacation, take a trip down Highway 321 to enjoy a variety of locally owned and operated dining establishments in Townsend. Or, if you can't tear yourself away from the
relaxing atmosphere
at Little Arrow, try one of our convenient and delicious
Stock the Fridge
add-on packages!