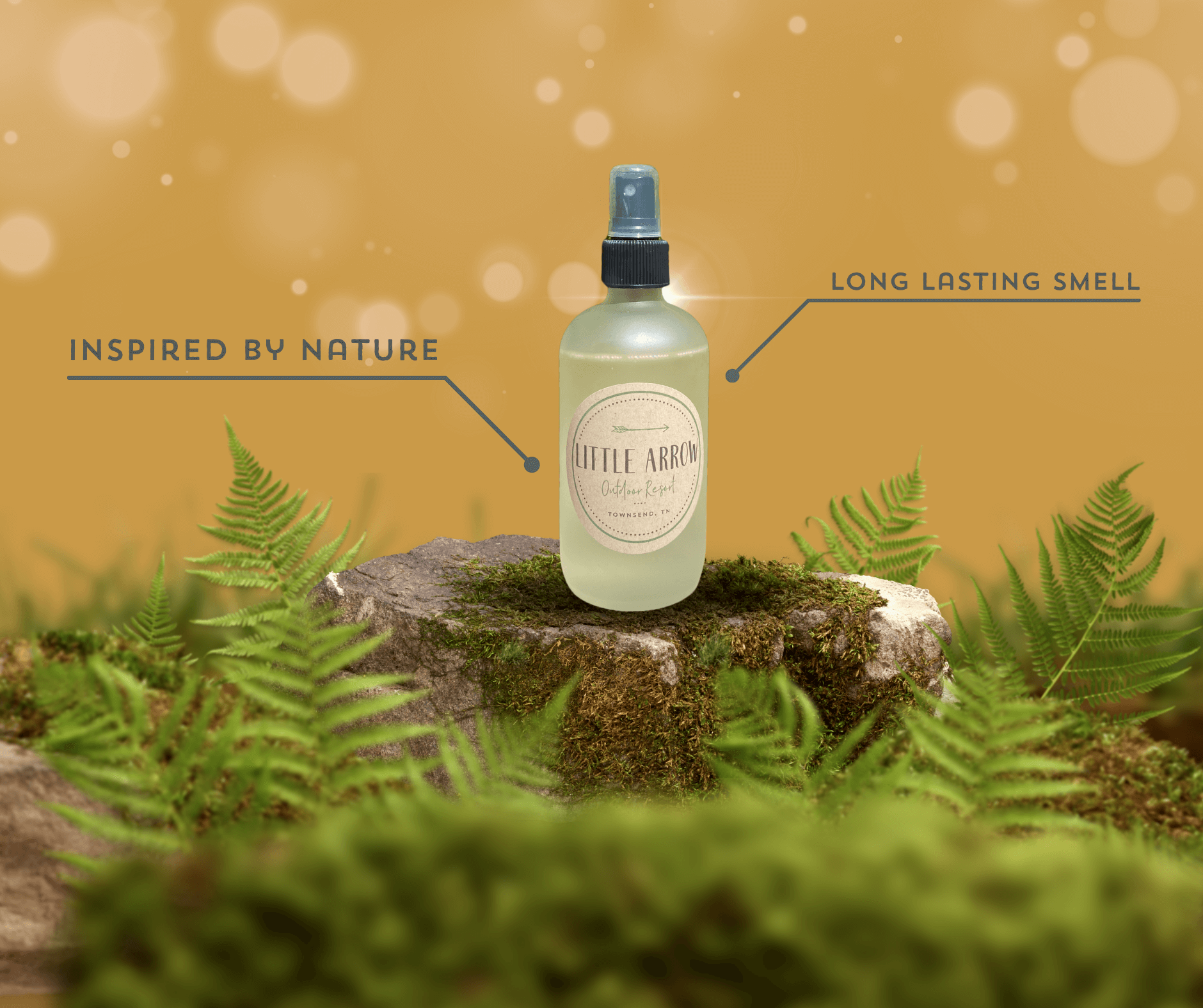 When was the last time your senses brought back a wonderful memory? Did you hear a song you haven't heard since high school that reminded you of hanging out with your best friend? Did you taste a watermelon and know it was summer? Did you feel that first chill in October that signaled the holidays were just around the corner?
At Little Arrow Outdoor Resort in Townsend, Tennessee, your sense of smell will create sweet memories at every turn. Located at the base of the Great Smoky Mountains National Park, the fragrances of bark, leaves, and forest flowers will gently greet you as you step outside your RV every morning. Later, the mouthwatering aromas of charcoal-grilled hot dogs and hamburgers will permeate the property, and by day's end the smoky smell of firepits and toasted s'mores wafts through the evening air.
And, of course, there is the scent of the great indoors at Little Arrow.
With the help of Knoxville-based Family Tree Candle Company, we've created a Little Arrow Signature Scent that can be found in all of our accommodations. Director of Marketing and Operations Cassie Simpher describes the journey to find the perfect smell to capture unforgettable vacation memories.
LAOR: Why did you decide to create a signature scent for Little Arrow?
Cassie: In my travels to other resorts and hotels, I always pay attention to what's around me. I noticed that at some places, when I entered their reception areas there was a beautiful smell. I thought it would be so cool if they sold their scent, because that's what I would want! I then had to apply that (of course) to Little Arrow!
LAOR: How did you decide which scent was perfect? Describe the process.
Cassie: Meg Whitney, the owner of Family Tree Candle Company, hosts Sip & Pour events at Little Arrow. She and her family have also camped with us! I met with Meg at her shop in Knoxville, and she showed me their different candle scents. I immediately fell in love with one in particular, and my visits to those fresh-smelling hotels and resorts popped into my head. I asked Meg if she could turn this into a room spray for us rather than a candle. Her eyes lit up! 
LAOR: Tell us what you came up with!
Cassie: We call it the Little Arrow Signature Scent, and it features notes of oak, moss and amber. It smells super clean, yet outdoorsy and woodsy!
LAOR: Where will your guests experience the Little Arrow Signature Scent?
Cassie: When guests enter any of our indoor spaces, they will discover our unique fragrance. This includes our vacation homes, tiny homes, cabins, glamping tents, Airstreams, and even at our Reservation Desk!
LAOR: Can your guests take home the scent? In what forms, and where can they find it? 
Cassie: They can! We created a room spray and a hand-poured candle that can be purchased in our Camp Store or online. Our guests aren't the only ones who love it—our staff does, too. Little Arrow's CEO, Carmen Simpher, and I both use it in our own homes!
At Little Arrow, we believe that every moment of your Smoky Mountains camping, glamping, or RVing vacation should stimulate your senses. Whether you're checking in for the first time or
crossing our bridge
as a Little Arrow veteran, we hope that our signature scent will
inspire great memories
! And, every time you light one of our candles or spritz a burst of room spray, remember that we can't wait to
have you back
.