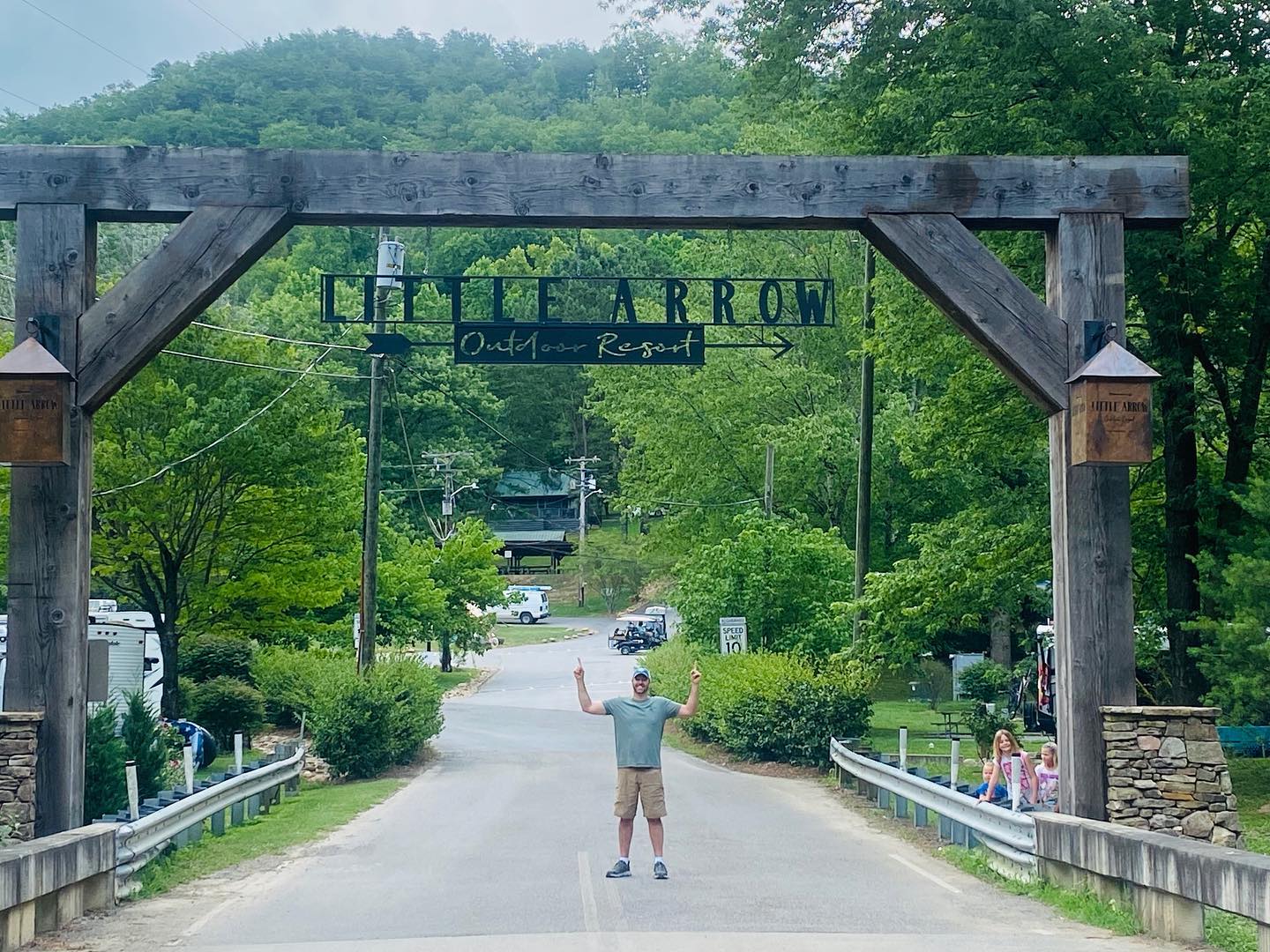 When our excited guests drive through Little Arrow Outdoor Resort's massive timbered entrance, they know their East Tennessee vacation has begun. The archway, displaying our 16' sign and flanked with welcoming metal lanterns, serves as a
doorway to adventure
! What most of our campers and glampers don't know, however, is that one of our very own guests played a role in our iconic Little Arrow entrance, along with dozens of other architectural details and surprises you'll find throughout our resort. Working with reclaimed metal, steel, barn wood, and other salvaged items, Kentucky Craftsman
Robbie "Hobby Robbie" Martin
designs one-of-a-kind pieces that perfectly fit Little Arrow's atmosphere of rustic luxury. Learn about Robbie's amazing Little Arrow story in this month's blog!
LAOR: How did you discover Little Arrow?
Hobby Robbie: In 2019, two of my brothers took a camping trip to the Great Smoky Mountains and happened to drive by Little Arrow. My family had just purchased a camper, and they shared with me that they found a great and unique spot to camp in Townsend, Tennessee.
LAOR: How did you begin your artistic collaboration with Little Arrow?
Hobby Robbie: I love a good plot twist, and the truth is that our first trip was far more adventurous than we had planned. During a family hike in Cade's Cove I began having strange and concerning symptoms. After making our way to the ER in Maryville, Tennessee (which was a story in itself), we discovered that I had an undiagnosed condition referred to as a cavernous malformation. Talk about throwing a wrench in your vacation! After consulting with various physicians, we decided to stick out our camping trip but lay low and hang around the campsite. As it turned out, there were PLENTY of options to keep our three daughters entertained without ever leaving the resort. We visited the camp store and were immediately impressed by the unique gifts. It was unlike any camp store we had seen. It had all the necessary items but with the attraction of a specialty, mid-tier boutique. I had just started my metal and wood-working business in 2018 and had begun selling wholesale to some stores. On the day we were leaving my wife encouraged me to introduce myself, and I left a few of my business cards. Carmen and Cassie Simpher ended up reaching out to me… and the rest is history!
LAOR: What types of pieces have you created for Little Arrow?
Hobby Robbie: What started out as gifting items in the Little Arrow Camp Store quickly evolved to custom signage and specialty projects. I have had so much fun designing and creating to meet the growing needs of the resort. The first major pieces I made were the large metal entrance sign that suspends over the bridge as you drive into the campground, and the camp store sign. I have also had the opportunity to make a large custom piece for their conference room, a "Point and Feather" coffee lounge sign, "Check Out" signage inside the store, a custom logo sign for their clubhouse, double sided "Second Entrance and Safe Travels" (loop direction) sign, and most recently a large suspended sign for their brand new pavilion, The Lookout! More recently, when LAOR shared their vision for luxury campsites and requested custom firepits, I couldn't wait to try my hand at those. They have a fully functioning hinged grate for cooking and feature Little Arrow's logo on the sides. You can also find unique rain chains on several of the tiny homes at LAOR that feature images such as bears, campers, campfires, Bigfoot, and more! My latest project was a custom fireplace grate for the oversized stone fireplace located in The Lookout.
LAOR: What was the inspiration behind those pieces?
Hobby Robbie: Carmen and Cassie are always so great to work with. I truly enjoy collaborating with clients who have a unique vision which inspires me to design and create pieces that tell their brand's story. The pieces are designed to really feel organic to the mountain setting and invite guests to feel welcomed and entice a sense of adventure.
LAOR: What is your favorite thing about Little Arrow?
Hobby Robbie: Our family LOVES Little Arrow! Not only is it an impeccable setting located at the entrance of the Great Smoky Mountain National Park, it is also located right on the Little River. We have the best time fishing and tubing with our kids. We have experienced camping, tiny homes, and even one of their vacation homes during our many stays at LAOR, and each presents a unique and memorable experience. We have since taken a family hike on Little Arrow's Nature Trail to the top of the mountain with breathtaking views, enjoyed the new zero entry pool, splash pad, and hot tub, and pristine bath houses. My kids would tell you that playing board games in the coffee lounge and meeting new friends at the playground Tipi are their top picks. Our youngest is a big fan of the cherry tomatoes growing at the Community Garden!
LAOR: What should other campers know about Little Arrow?
Hobby Robbie: Little Arrow is unlike any other campground. It truly is an outdoor resort! There are so many unique amenities that appeal to all ages. From relaxing, to outdoor adventures, there is something for everyone. You can experience everything the Great Smoky Mountains have to offer without ever leaving the campground. We have even seen black bears during our stays!
LAOR: What is one of your funniest Little Arrow memories?
Hobby Robbie: During one of our visits we stayed in a campsite right on the river. While swinging in a hammock on the river bank, we noticed a strange creature hiding in the water waiting to startle oncoming tubers. This creature was in fact a Little Arrow frequent camper who'd donned a ghillie suit, which resulted in many laughs, and a few screams! Our kids ended up meeting him and taking pictures. Such fun!
LAOR: Any other thoughts?
Hobby Robbie: If your readers decide to tube Little River over the falls, I do not recommend you attempt to do so in an inflatable unicorn… just ask my wife! [Laughing]
We're so happy that Hobby Robbie and his family have become a part of the Little Arrow family in a big way! His imaginative work has captured the spirit of Little Arrow, and adds to the luxurious ambiance that can only be found at our mountain retreat. From the minute you drive in, until you
toast your last s'more
over the firepit, we know Hobby Robbie's original work will enhance your own Little Arrow getaway. Come
see us soon
!