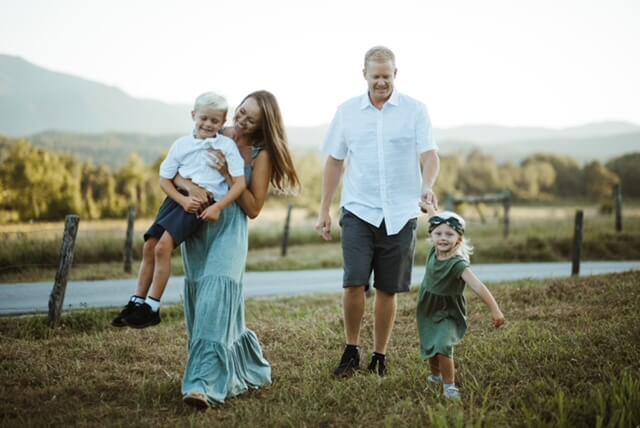 Helping our guests create sweet memories with their families is a huge part of why we do what we do at Little Arrow Outdoor Resort. Being surrounded by nature gives our campers and glampers the perfect energy-renewing environment, and the extended time to unplug with loved ones refreshes spirits. We sat down with Ashleigh Horton, wife of Chris Horton and self-described "Momma of Blondes" to 7-year-old Bentley and 5-year-old Giselle, to learn more about her family's Little Arrow memories.
Finding Little Arrow
Born and raised in Ohio, Ashleigh Horton grew up camping – both her dad and aunt owned campers. Now married to native Georgian Chris, the two have settled in Canton, Georgia with Bentley and Giselle, and love to reunite with Ashleigh's family in an outdoor setting. With a crowd of up to fifteen relatives, they are always on the lookout for a convenient gathering place. "We discovered Little Arrow online," said Ashleigh. "All of us are out of state, except for my aunt and uncle who live in Townsend. We all meet here every July. Our first time here was especially memorable—it was my Dad's 50th birthday!"
Coming Back to Stay
Ashleigh has visited Little Arrow five or more times—at this point, she's lost count! Without a doubt, the environment is one of the biggest draws. "We love the atmosphere," said Ashleigh. "It's fun, clean, and has lots of trees. It's not just a gravel parking lot." The range of accommodations is a plus as well. "We love the options of cozy cabins and glamping tents," she explained, "because we don't own a camper." She added, "My cousin has rented a tiny home. All of us love how it's right on the Little River, too."
The Family's Favorite Things
Little Arrow's centralized location in beautiful Townsend, Tennessee gives Ashleigh and her relatives the opportunity to meet without too long of a drive, and being close to Cades Cove in the Great Smoky Mountains National Park is a special bonus. Ashleigh's Dad does the cooking, but often they'll make their way to nearby Riverstone Restaurant for breakfast. "The kids always want to go there!" said Ashleigh. The entire clan appreciates another aspect of Little Arrow: "You can get Wi-Fi, or you can also choose not to get it," Ashleigh said. "That forces us to unplug and be more present. We love to disconnect to truly enjoy each other and nature."
Recommendations for Little Arrow Newbies
For those who are wondering what a stay at Little Arrow Outdoor Resort is like, Ashleigh provides details. "It is so well-kept," she said. "You have your privacy, because there are so many trees. The bath houses are clean and luxurious. They even empty the firepits! You feel like you're the first person who's been in that spot."
"You can tell they put a lot of pride in everything," she continued, "and have literally thought about all the details. It is resort-ish. I tell friends you can be as primitive or as fancy as you want."
Cherishing the Memories
When asked about her favorite memories from Little Arrow, Ashleigh wasn't sure where to begin. "There are too many memories to count!" she said. Closeness to nature and all of its creatures is always a treat. "A highlight for our kids was the black bear hanging outside of our glamper!" And a chilly winter visit brought a welcome surprise: "We stayed in February last year. We wanted a little getaway, and stayed in a cozy cabin. We had an awesome snow while there!"
We're proud that Little Arrow provides a backdrop for relaxing days, laughter, and special discoveries during family vacations. After all, it was through family ties that Little Arrow
came to be
! Come and bring your own crew to experience the therapeutic benefits of nature and get some fresh air after a long winter. We're looking forward to seeing Ashleigh, Chris, the kids, and Ashleigh's family back this summer, and we hope to
see you and your loved ones
, too!