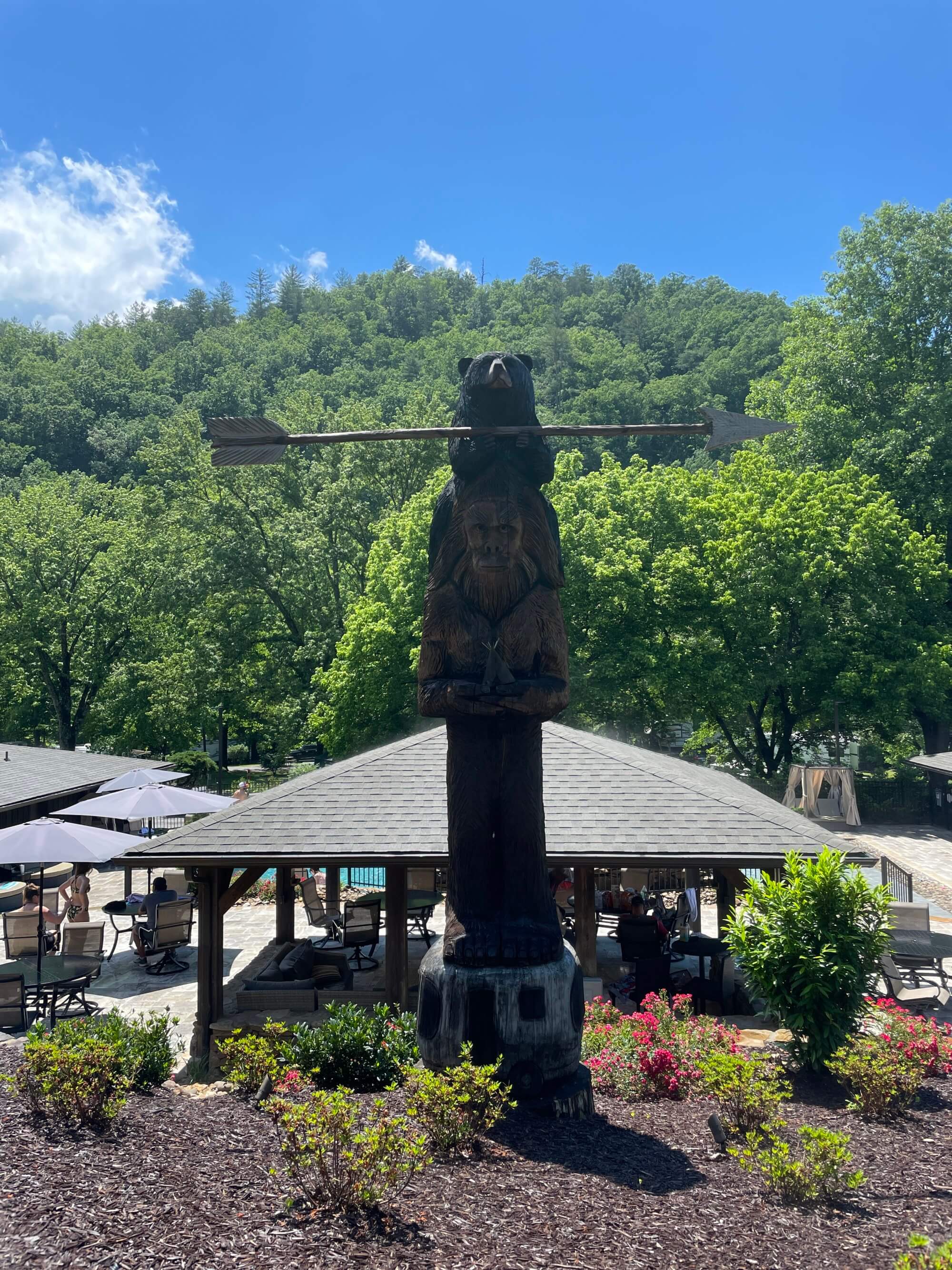 Located within walking distance from the Great Smoky Mountains, Little Arrow Outdoor Resort shares in the natural beauty of the most visited national park in the country. Here, we enjoy bears and birds, flowing streams, flowers, plants, and trees. Lots of trees–in fact, over
100 native species
exist in these ancient mountains. Each one that offers its leafy canopy on the Little Arrow property is important to us, but sadly, not all survive.
Thankfully, we found Bubba Daniel, a local chainsaw artist who takes our treasured timber and carves it into art that can be enjoyed for generations. Here is a list of our transformed trees—how many can you find during your visit?
Table and Chair
– Sit down and stay awhile on the first artistic collaboration between Bubba and Little Arrow, a table and chair made from a tulip poplar tree located in the A-Loop next to
RV site
A23.
Totem Bigfoot
– Welcoming you at the
resort pool
, Little Arrow's mascot Bigfoot balances on an Airstream, giving his black bear buddy a great view from his broad shoulders.
Standing Bear
– Ready for adventure, you'll find this curious black bear located on Little Arrow's A-Loop between RV sites A3 and A5.
The Three Bears
– Momma Bear and her two cubs peek from a carving made from a sweet gum tree located between Premier Cabin #2 and
The Townsend
Tiny Home Cottage.
Wildlife
– Make sure to walk around the black walnut tree carving located next to The Townsend Tiny Home Cottage… you won't want to miss the owl, black bears, and
Native American Cherokee Indian
keeping watch.
[ngg src="galleries" ids="22″ display="basic_slideshow"]
At Little Arrow, we appreciate every day in our scenic woodland home. We want our trees that have stood tall for hundreds of years to stay a part of our resort, and we're thankful to have a fun and meaningful way to make that happen.
Whether you're a camper, glamper, or RVer, we hope you'll
join us
at Little Arrow Outdoor Resort in beautiful Townsend, Tennessee to unplug from your busy life and celebrate the wonder of nature with us.