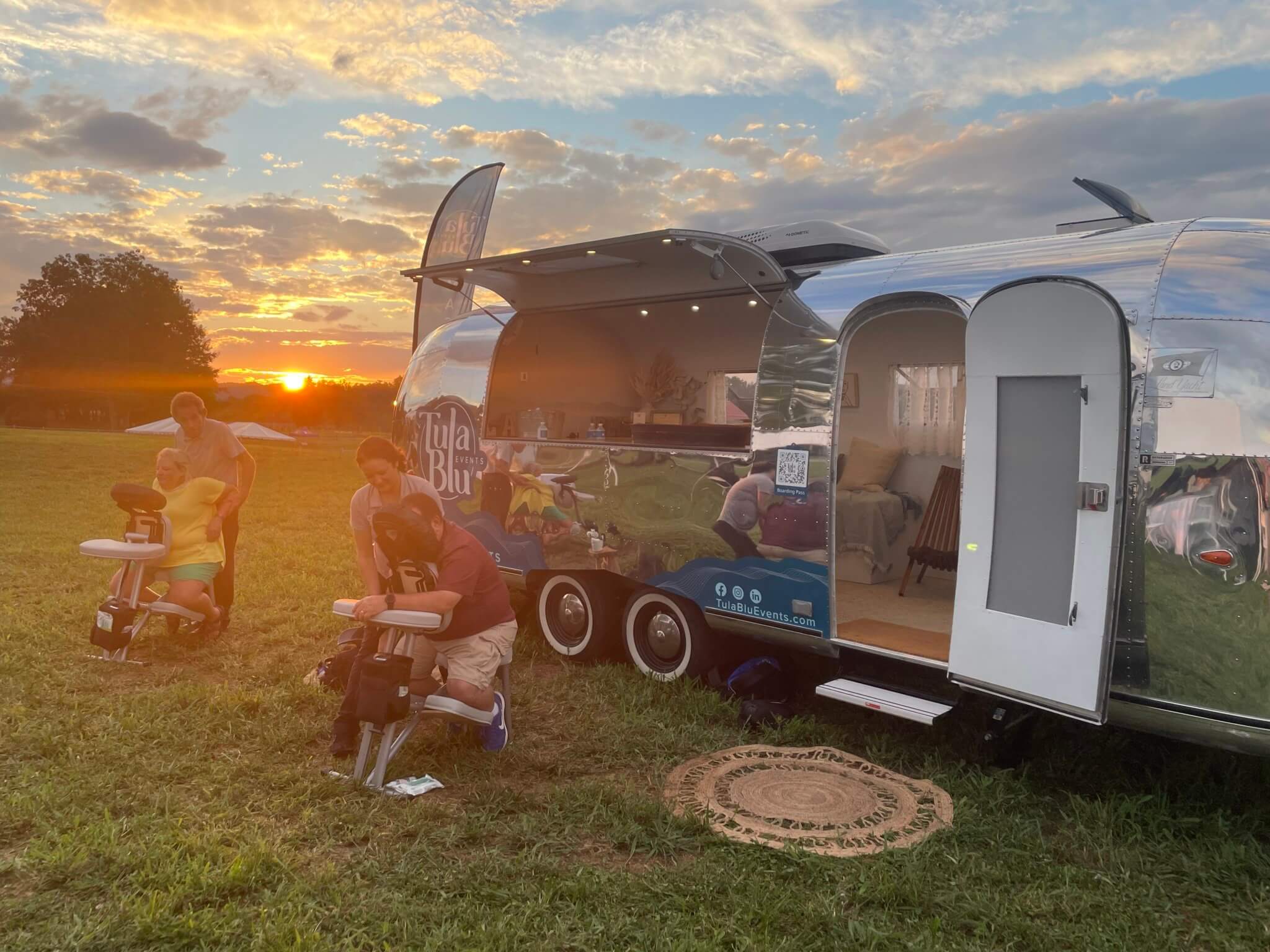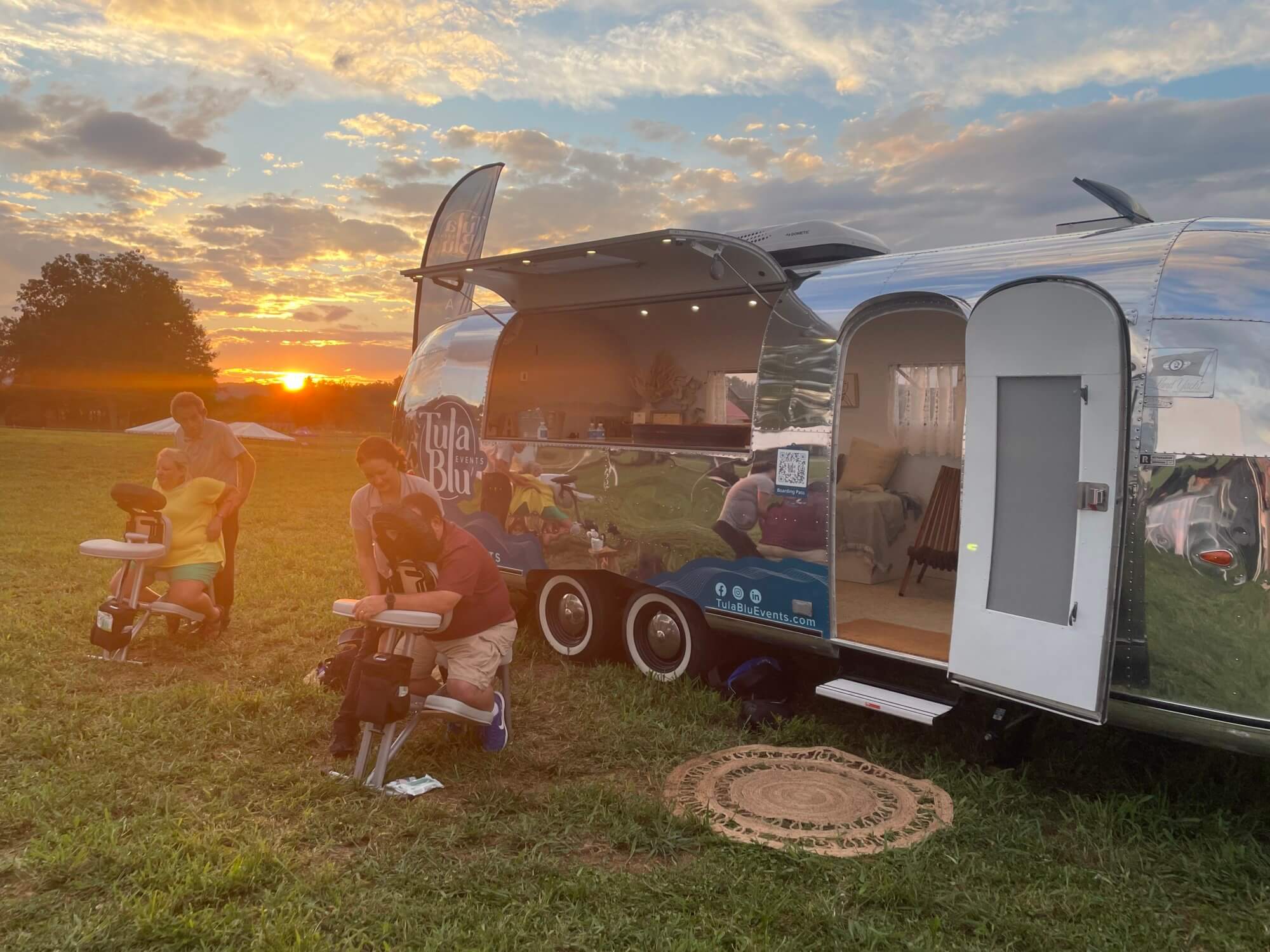 When massage therapist Amy Tankersley brought her services to Little Arrow, we thought we'd died and gone to heaven. Offering relaxing outdoor therapeutic massage to weary backs, scalps, necks, and feet, Amy and her experienced team at Maryville, Tennessee-based TactionRx had just the right prescription to enhance our guests' Smoky Mountain vacations. We thought it couldn't get any better, but TactionRx has evolved. Little Arrow now welcomes Tula Blu Events to our Townsend, Tennessee resort!
Serving Up Stress Relief
When the pandemic started, the TactionRx massage therapists found ways to bring their healing services to COVID-weary people, but they knew that more could be done. The group, who originally met while working at the Wellhouse at Blackberry Farm, started to think creatively. "After two and a half years of the pandemic, we noticed how area businesses were utilizing food trucks to feed their employees while their onsite food services were closed," explained Amy. "So, we thought to ourselves, if it can be done for meals, why not for delivering the physical, mental and emotional stress-relieving benefits of massage?"
Heaven On Wheels
After many months of research, Amy and her husband Dan found the answer: a retrofitted 1959 vintage Airstream. Offering "160 square feet of goodness", the mobile massage studio is on the road seven days a week to help corporations, individuals, and group gatherings experience the powerful and proven benefits of massage.
The couple named the RV "Tula Blu", reflecting its mission as well as its new East Tennessee home. "Tula is a girl's name with origins in Choctaw, Hindi & Kiswahili," Amy described. "It means 'mountain peak', or, 'to be tranquil.' Blu speaks to the Smoky Mountains which the Cherokee called 'Shaconage'. It means 'Land of the Blue Smoke'."
Spa Services for All
With the birth of Tula Blu, Little Arrow campers, glampers, and RVers can continue the restorative massage services that Amy and her team provide. Community members can join in, too. "We absolutely love our partnership with Little Arrow and plan to be there most days when Tula Blu is not out and about," said Amy. "And now, you do not have to be staying at Little Arrow to schedule a therapeutic massage with us. Little Arrow guests, or anyone else, can simply make a reservation by visiting www.tulabluevents.com."
Whether you're in need of a rejuvenating morning massage by the pool, a healing foot massage after an active day of hiking, or a blissful scalp massage for your
entire bridal party
, Amy and her team at Tula Blu Events are ready to serve. "The beautiful environment of
Little Arrow Outdoor Resort
truly enhances the restorative benefits of therapeutic massage," said Amy. "It's a wonderful opportunity to relax and unwind at the most peaceful place on the Peaceful Side of the Smokies!"