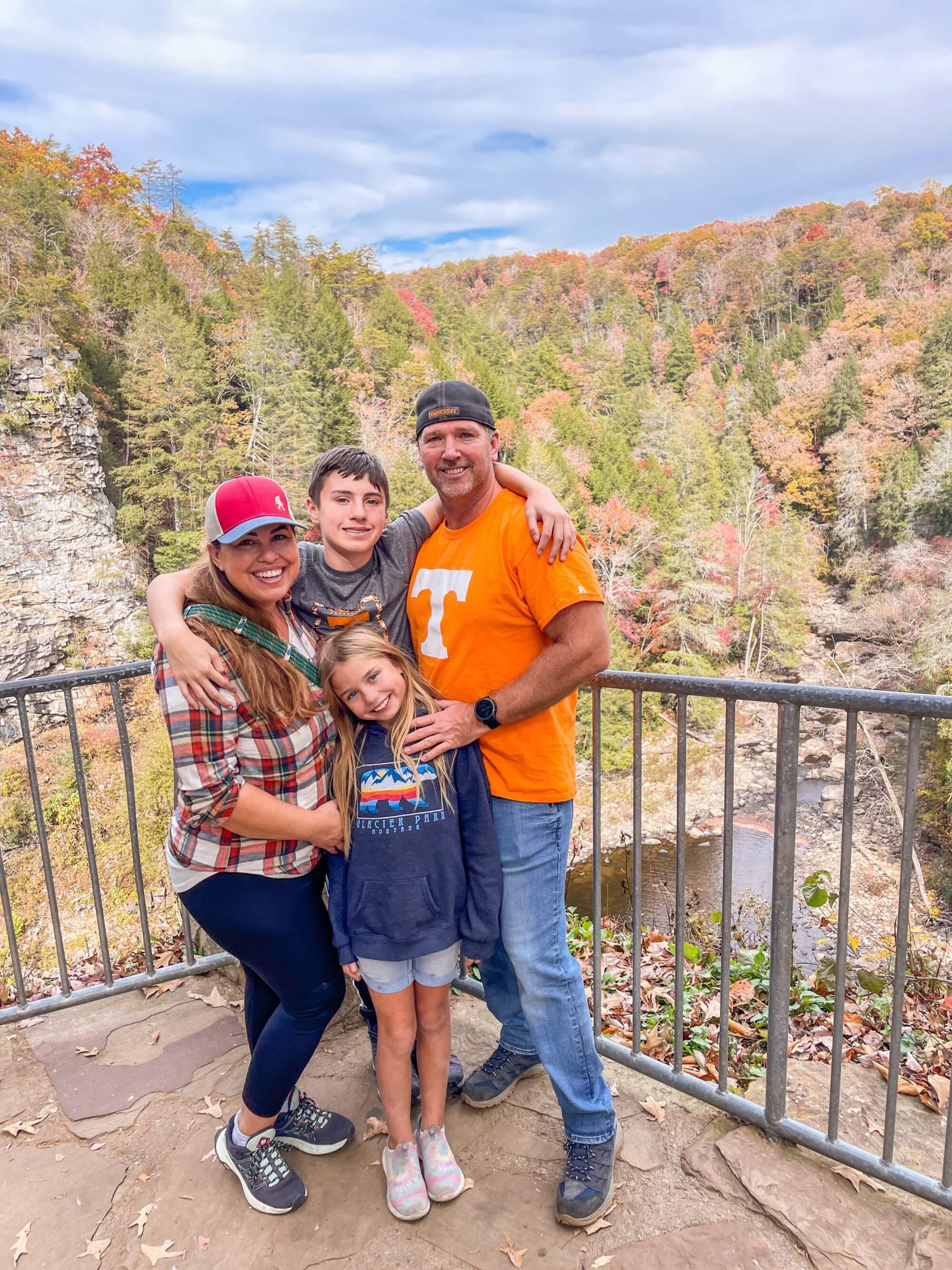 Thanksgiving is one of the most cherished times of the year at Little Arrow Outdoor Resort! Upholding a longstanding tradition, our staff celebrates "
Campsgiving
" with our campers, glampers, and RVers during a very special mid-day meal. Gathering at our Lookout Pavilion, we assemble for a blessing, then bring on the turkey, dressing, and drinks. Our guests bring their smiles—along with their specialty side dishes!
In preparation for the big event, we're excited to share two
campground-perfect

recipes
from one of our many guests who are
seasoned experts
when it comes to travel cooking. Get to know Amber Housley and her family below, and get ready for two delicious recipes you'll want to make over the Thanksgiving holiday–or anytime! 
Adopted Tennesseeans
Although Amber Housley and her husband Brandon both hail from Nevada, you'd think they were Southern born and bred. The two have made Nashville their home for nearly twenty years, and love everything that the Volunteer State has to offer in natural resources and outdoor fun. The couple makes regular camping trips in their RV with their two children, 13-year-old Colin and 8-year-old Kayla, along with their energetic Golden Lab, Tucker.
Amber, 42, is an entrepreneur who helps women-owned businesses with coaching and retreats. She understands the busy life of a mom, and the importance of getting away from it all! Camping offers her family the chance to unplug, connect with nature, and spend quality time with each other.
"We've been camping at Little Arrow for 5 years now since it was acquired by Carmen and her family!" Amber said. "We spend our long holiday weekends there camping in our travel trailer. We love the riverside campsites and how close it is to the Great Smoky Mountains National Park. We have been doing Campsgiving at Little Arrow for 4 years, and it's become our new family tradition!" 
Amber's Favorite Recipes
Super Campground Stuffing 
Ingredients:
1 loaf of sourdough round or baguette 

1 loaf French bread

1 whole large onion or 2 medium onions, diced

5 stalks celery, diced

1/2 bunch fresh parsley, chopped

1/2 c. (1 stick) salted butter

6 c. organic chicken broth, more if needed for moisture

1/2 tsp. dried basil

1/2 tsp. ground thyme

1 tbsp. fresh rosemary, finely minced

Salt and pepper
Directions:
Step 1

– Pull the bread apart into 1-inch cubes and lay them out at home ahead of your trip on sheet pans. Cover with a dish towel for 24-48 hours until they're dry and crisp. Store in a large zippered plastic bag. 

Step 2

– Prep the onions, celery, parsley, rosemary, basil, and thyme ahead of your trip and store in zippered plastic bags. After you arrive, melt the butter in a large skillet. Add the onions and celery and cook for 3-4 minutes. Add the broth, parsley, rosemary, basil, thyme, salt and pepper, and stir. Simmer for 3 minutes.  

Step 3

– Put all the bread cubes in a large bowl and slowly ladle in the broth mixture, lightly tossing as you go until the dressing has the moisture level you want. Taste and add more seasonings as needed. 

Step 4

– Pour the dressing into a large foil casserole pan. Bake for 20 to 30 minutes in your RV at 375˚ until golden and crisp on top, or set on grill with lid for 30 minutes.
Apple Cider Hotty Toddy 
Ingredients: 
6 ounces apple cider

1 ounce bourbon

½ ounce fresh squeezed lemon juice

1 teaspoon local honey

Cinnamon stick, lemon slice, and apple slice for garnish 
Directions: 
Step 1

– Heat the apple cider until it just starts to boil In the microwave. About 1.5 minutes.  

Step 2

-Transfer the hot apple cider to a large mug. Add the bourbon, lemon juice, and honey. 

Step 3

– Stir to combine. 

Step 4

– Garnish with cinnamon sticks, lemon slice, and apple slice. (optional) 
Giving Thanks at Campsgiving
Making and nurturing relationships with our campers, glampers, and RVers is what puts the chocolate in our S'mores here at Little Arrow. We're honored to have our guests join us during this special holiday of thanks–whether they're staying for the first time at our beautiful Townsend, Tennessee resort, or coming back again and again just like the Housley family. 
We hope to
see you
at the table soon!