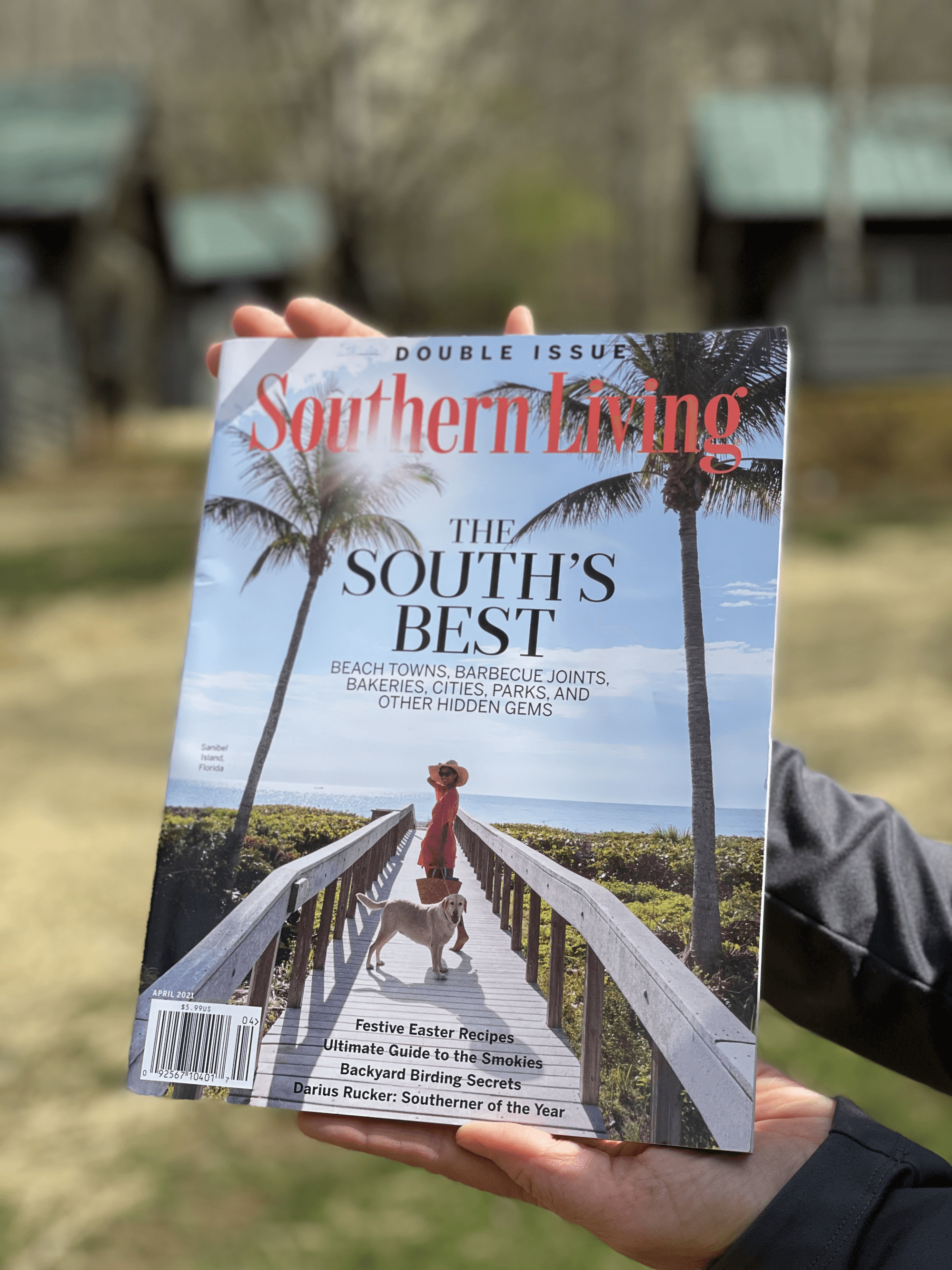 Hold on to your hot dogs, everyone… Little Arrow Outdoor Resort is in the news again!
We're excited to announce that Little Arrow has been featured in Southern Living magazine's April issue – on newsstands now! This annual double edition features "The South's Best", with a celebration of the special people and places of the region. Pivoting from the previously ranked awards format, this year with respect to the Pandemic the editors decided to do a meaningful deep dive into the areas of the South that bring them the most joy.
Talented travel writer Tracey Minkin penned the captivating 12-page article "Your All-Time Best Guide to the Great Smoky Mountains" that will have you longing to jump into your RV and visit! In addition to the fantastic food, lodging, and attractions Tracey describes, we thought we'd highlight five fun spring events coming up in Little Arrow's scenic "hometown" of Townsend, Tennessee – "The peaceful side of the Smokies"!
April 17th: HomeSpun Day at the Great Smoky Mountains Heritage Center – Enjoy a fun and educational day learning about fiber arts "from sheep to shawl" at this fascinating museum that shares the history and culture of the people who once inhabited Southern Appalachia and the Great Smoky Mountains National Park. From 11 a.m. to 4 p.m., watch demonstrations of the traditional process of shearing, cleaning, dyeing, and spinning with a variety of animal fibers, all taking place in the center's historic village featuring a collection of buildings and barns from around the region. Standard museum rates apply, with free admission for annual members.
May 7th and 8th: 30th Annual Spring Festival and Old Timer's Day at the Townsend Visitor's Center – Come for the day – and evening – to celebrate the heritage of Townsend and the Appalachian region. The entire family will enjoy genuine Bluegrass music, clogging, arts and crafts, food, storytelling, Appalachian skills demonstrations and wildflower walks. Be sure to hop on the free shuttle that takes you on a tour of Townsend (including a stop at Little Arrow Outdoor Resort!). Check specific hours and event details at https://www.smokymountains.org/what-to-see/spring
May 7th and 8th: Train Days at the Little River Railroad & Lumber Company Museum – While you're visiting the Spring Festival and Old Timer's Day, hop on the shuttle for more family friendly fun at this unique museum celebrating one of the largest and most significant commercial logging operations in southern Appalachia. From 10 a.m. to 5 p.m., listen to the whistle blow while getting an up-close look at historic Shay locomotive #2147, and enjoy local craft vendors, blacksmithing demonstrations, and storytellers, along with a one-of-a-kind garden railroad display. Free admission both days.
May 15th: Springtime in the Smokies British & European Car Show – Stop by Blount British Cars, Ltd.'s 34th annual springtime car gathering to view a colorful array of vintage British and European cars. Taking place on the grounds of the Talley Ho Inn in Townsend from 10 a.m. to 1:30 p.m., the gathering draws British and European car owners from as far north as Michigan, and as far south as Florida! Admission is free, but a donation to a local charity is appreciated.
May 22nd: Smoky Mountain Bigfoot Festival at the Townsend Visitor's Center – Little Arrow Outdoor Resort's very own ambassador, Bigfoot, will be the star of the show during Townsend's First Annual Smoky Mountain Bigfoot Festival! The one-of-a-kind event will begin with a ticketed Bigfoot 5k at 9 a.m., followed by a 1-mile fun run at 10 a.m.. The free festival kicks off at noon and will feature live music, oral presentations, vendors, food trucks, square dancing, and more. Keep an eye on our blog for more details!
We hope you'll plan to attend these special events, and will make your trip even more memorable by staying in one of Little Arrow Outdoor Resort's fun glamping and camping accommodations. And don't forget – pick up your keepsake copy of April's "The South's Best" issue of Southern Living magazine to commemorate our one-of-a-kind Great Smoky Mountains National Park – and check out Little Arrow's special recognition!