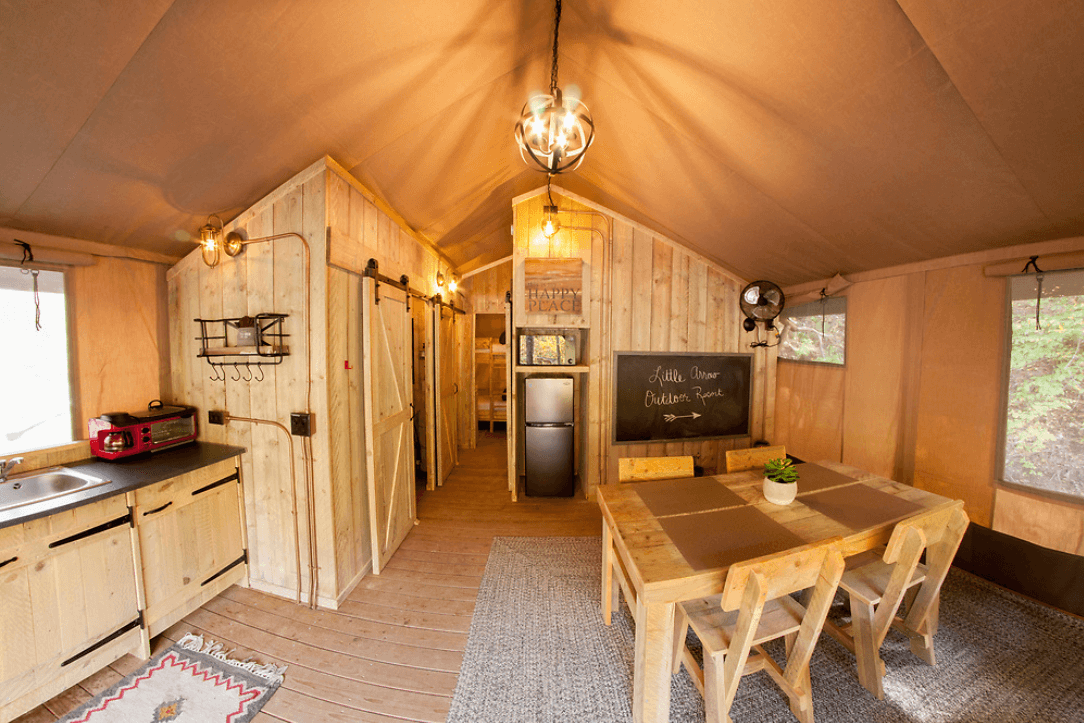 Thank you for voting Little Arrow Outdoor Resort best for Glamping by USA Today's 10Best Reader's Choice 2020!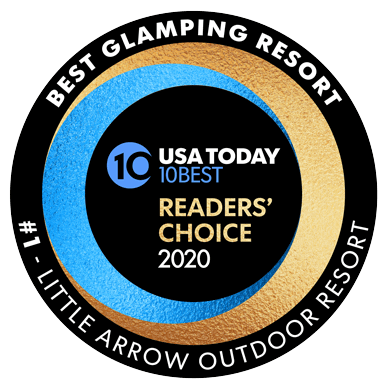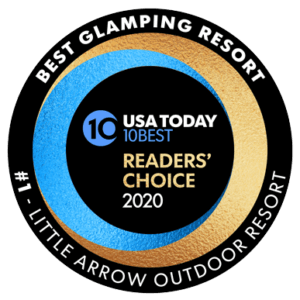 We're always happy to hear from our campers, and love it when they share stories of their fun stays at Little Arrow. But, we nearly fell off our Adirondack chairs last fall when a camper revealed she was a judge for USA Today's 10Best Reader's Choice awards, and wanted us to participate in the 2020 Best Glamping Resort Competition!
We happily obliged, knowing we had some serious rivals. Little Arrow was up against resorts from all over the country who'd been in business longer, were larger, and even had multiple locations. How would we size up?
As the votes came in, our "newbie" resort held strong. With the support of our campers and friends, Little Arrow climbed into the top ten. Then, a cause to celebrate: WE WON!
This honor makes us proud and grateful, especially being so new on the scene. But, we think we know why we were voted Number One: our Community, our Variety, and our Campers.
Our Community
With any outdoor resort, it's all about location. And we've got the best! Nestled in the foothills of the Great Smoky Mountains, beautiful Townsend, Tennessee is known as the "Peaceful Side of the Smokies". We love offering special events that celebrate our area, from salamander searches in the Little River, to hosting the 2nd Annual Great Smoky Mountain Food Truck Festival.
All are welcome to visit our scenic resort whether it's for a two-night stay, or for a week's getaway in one of our fully-outfitted custom tiny homes, manufactured by Clayton Homes in nearby Maryville, Tennessee. We're passionate about creating community within the resort, and inviting our local community to join in!
Our Variety
Not that there's anything wrong with this, but many of our glamping resort competitors were just that – glamping only. We don't discriminate when it comes to your preference of outdoor vacation! Of course, we've got glamping covered with luxury tents, two-story glamping lodges, cozy and premier cabins, tiny homes, and vacation homes, but we also feature RV sites, Airstreams, and tent and pop-up sites for our more traditional travelers!
Whether extravagance is your jam or old-fashioned camping floats your boat, all of our guests enjoy tons of amenities including our coffee lounge, laundry facilities, gift shop, swimming pool, splash pad, dog park, hiking trails, and playground. Open year 'round, we're here to please!
Our Campers
Without a doubt, what makes Little Arrow Outdoor Resort a winning retreat is its campers. We're always excited to meet people from around the corner, around the country, and around the world! Located on the former site of the much-beloved Tremont Campground, we get a thrill from hearing stories of guests who stayed during their childhoods and are now returning to bring their own kids.
Our visitors get as attached to each other as they do the Resort, and many who have met here for the first time make plans to meet up again at Little Arrow. We thrive on being the source of many happy memories, and long-lasting friendships!
Thank you again!
To all our faithful supporters, we offer our heartfelt thanks for helping this "Rookie Resort" rise above the rest! We look forward to growing within our community, offering even more meaningful experiences, and caring for our campers. Thank you to those who visited and participated in the competition, and if you haven't met us yet, come see why Little Arrow Outdoor Resort was voted the Best in the U.S.!