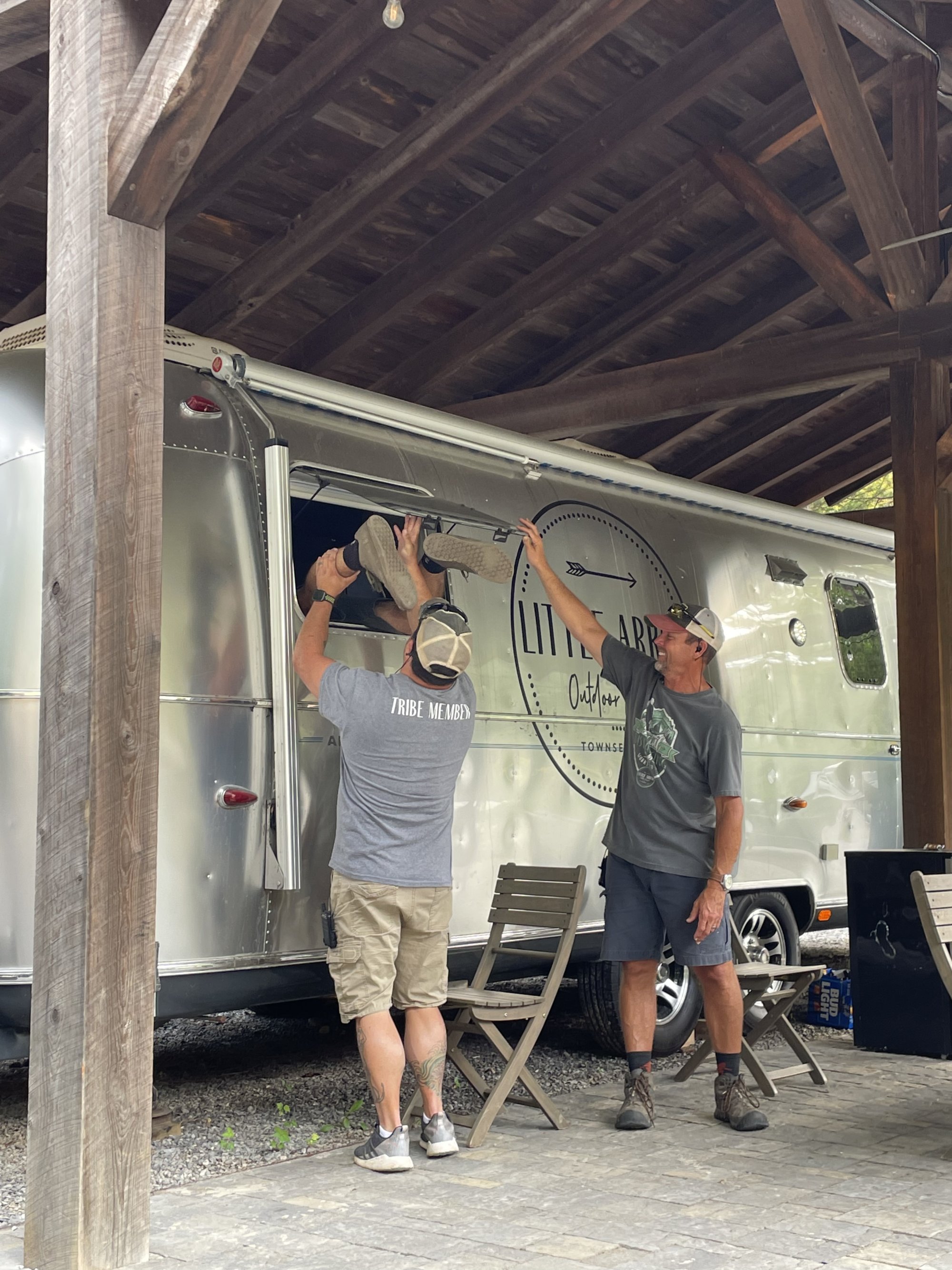 When you work at a busy campground nestled in the foothills of the Great Smoky Mountains National Park, you never know what your day will bring! At Little Arrow Outdoor Resort, our combination of campers and glampers, over 125 accommodations and camping spots, and creatures both domestic and wild keep our dedicated staff on their toes – especially our intrepid team of Maintenance Specialists. Gary Riggleman, Steven Yarber, Joe Burns, Brandon Simpher, and Josh Jory are always at the ready to keep our amenities, accommodations, and scenic settings at their best. Get to know them below!
Josh Jory
Native Californian Josh Jory is the newest member of our Little Arrow team. He agrees with Forrest Gump when it comes to the variety in his workdays at our campground: "Life is like a box of chocolates. You never know what you're gonna get." Josh enjoys working with guests and fellow staff members who feel like family – including his own wife, Little Arrow Lodging Manager, Ashley Jory. "Little Arrow has shown me that when you work at a place you love you will never work a day in your life," said Josh. "Plus, some things that go on where you say 'You can't make this up' actually happen."
Joe Burns
Joe Burns was born and raised in Townsend, Tennessee, Little Arrow's beautiful hometown located on the Peaceful Side of the Smokies. This staff member who has been with us for a year enjoys playing a role in helping our visitors create great memories. Joe's funniest story about Little Arrow has to do with a four-legged guest who decided to embark on his own Smoky Mountain adventure. "A dog escaped from a cabin," said Joe, "and our Reservation Specialist, Robin Millsaps ran after it through the campground, across the bridge, and down the highway." Luckily, our canine camper – and Robin – were both okay!
Steven Yarber
With us for two years, Steven Yarber is an East Tennessean born in Knoxville and raised in nearby Walland. Like Josh, he's part of a Little Arrow couple – his wife, Stephanie, is on the Reservations team. Steven loves working in the great outdoors and enjoys his interactions with the people at our resort. "Hard work, dedication to whatever I take on, a willingness to learn, and a little O.C.D." is his secret. One of his favorite times at Little Arrow was when he and Stephanie gained two new family members from the resort: rescued kittens named "Smoky" and "Glamp".
Gary Riggleman (now retired, but still visits!)
After spending decades as a successful insurance adjuster in Columbus, Ohio, we're sure glad Gary Riggleman fell in love with Townsend and moved here with his wife fifteen years ago. The native Ohioan is our "veteran" maintenance specialist, having been with Little Arrow since our start in 2018. Gary loves meeting new people at the campground on a daily basis, and hearing about their lives and adventures. His career background has served him well as he tackles every variety of job at Little Arrow. "Do one thing at a time, and do it right," he explained. "I believe in doing good work at whatever task I may have!"
Brandon Simpher
Brandon Simpher, a member of the Simpher family, was born and raised in Jackson, Missouri and has been with Little Arrow for three years. He loves working in the beautiful outdoor environment of the campground and gets to meet many of our guests while performing his favorite work duty: mowing the property. Brandon believes the purpose of our lives is to be happy, and he appreciates being a part of the Little Arrow tribe. "It is hands down the best job and hardest job ever," he said. "I love every day here, no matter what I'm doing. Everyone here is so great to work with. Working with family is tough 10% of the time, but 90% of the time I'm so thankful to work with them."
Whether serving as landscapers, plumbers, builders, or just driving by on a golf cart with a smile, Little Arrow's Maintenance team plays an important role in keeping our resort beautiful and our campers and glampers happy. They share a love of Little Arrow's people and location, and most importantly, a great sense of humor! Be on the lookout for these hardworking handymen when you come to stay at Little Arrow. We hope to see you soon!