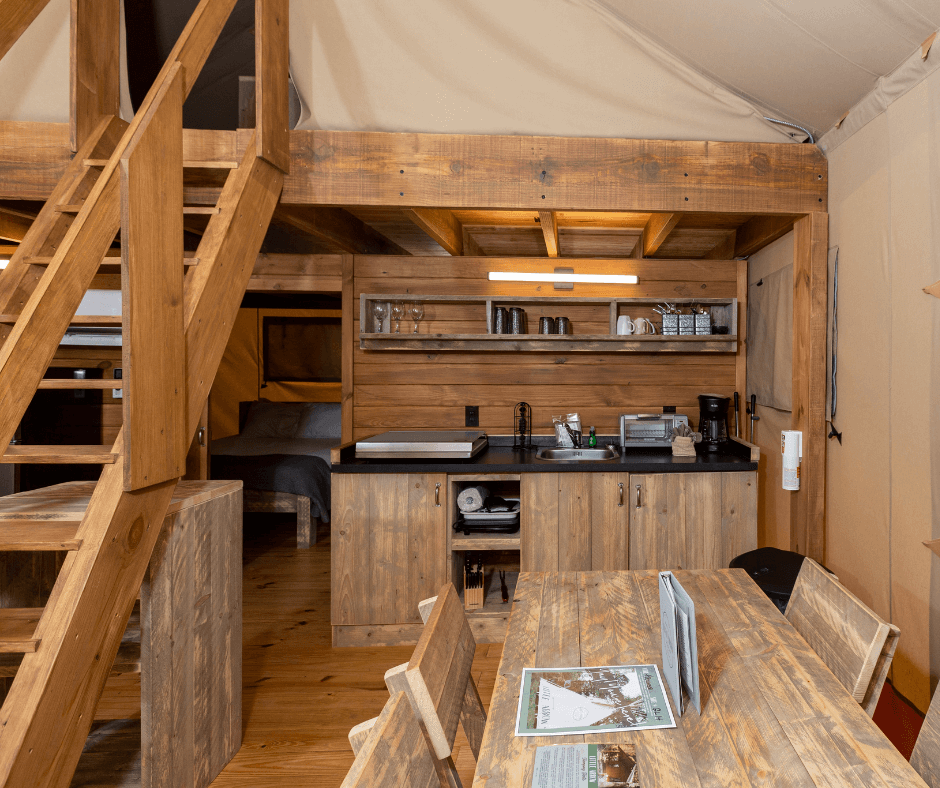 At last, you've arrived in scenic Townsend, Tennessee. You've crossed the bridge over the rustling Little River, and passed through the iconic entrance into Little Arrow Outdoor Resort. Your crew has survived the trip, and you're more than ready to relax! As you settle into our luxurious accommodations, you'll find all the comforts of home – and more – with no detail overlooked.
But, what if you need extra towels? Can't find the wine bottle opener? Aren't sure how to use the TV remote? More than likely, our Lodging Team of Ashley Jory, Lynette Fornea, and Deanna Sims will have the answers. This group, all specialists in guest comfort, is dedicated to making your vacation as perfect as possible. Learn more about these "Roving Angels" of the resort below!
What do you like most about working at Little Arrow?
Lynette Fornea, Lodging Specialist, born and raised in Ponchatoula, Louisiana – I love meeting wonderful guests from around the country.

Ashley Jory – Lodging Manager, born and raised in Lodi, California and wife of Maintenance Specialist Josh Jory – I like the family environment here, and getting to know people from all different backgrounds!
What is your "why" when it comes to Little Arrow? Why do you do what you do?
Lynette – It brings me joy to know I help guests enjoy their vacations.

Ashley – I think my "why" at Little Arrow would be getting to experience new people and backgrounds every day. When I started at Little Arrow, I just thought of it as a job that I needed to have to help support my family. As time has gone on, Little Arrow has become another family to me. I do what I do here because it makes me happy and I absolutely love making the guests happy. When I see guests pleased and enjoying their stay, it really makes me realize this is what I am here to do… and it drives me even more.
What is your most fun memory or funny story you've experienced while working here?
Ashley – There are so many funny stories and great events that have happened while working here, but I think my best memory is when we had the ribbon cutting ceremony at the Lookout Pavilion. The entire staff sang karaoke! Our guests loved it, and I felt like we all really bonded while letting loose and enjoying each other's company.

Lynette – I was gifted the most delicious cookies from Mrs. Mitzi Mayfield. Made me so happy!
What are the values that drive you in your job?
Ashley – The values that drive me the most are 1) work as hard and you can, 2) give everyone respect, and 3) have dependability and consistency.

Lynette – Striving to be the best resort. Guest satisfaction is the ultimate goal.
What is your favorite quote?
Lynette – "Treat others as you wish to be treated."

Ashley – One of my favorite quotes is, " A dream doesn't become reality through magic; it takes sweat, determination and hard work." – Colin Powell
What has the Little Arrow Journey been like for you?
Ashley – My experience at Little Arrow has been seeing so much growth and change on a daily basis. I also love that I get to grow and change with this company. Being a Little Arrow employee is more than being just an employee – it also means being part of a family unit.

Lynette – This has been the best job I have ever had. I absolutely love our Little Arrow family and meeting the guests truly warms my heart.
It takes a staff dedicated to a stellar level of customer service to make Little Arrow an
award-winning
resort! Our Lodging Ladies are partners in helping our campers and glampers feel as comfortable as possible. When it comes to your Little Arrow vacation, happy memories are our goal.
Book your stay
today, and become a part of our close-knit tribe!