 Happenings
ALL Events
2020 Event Schedule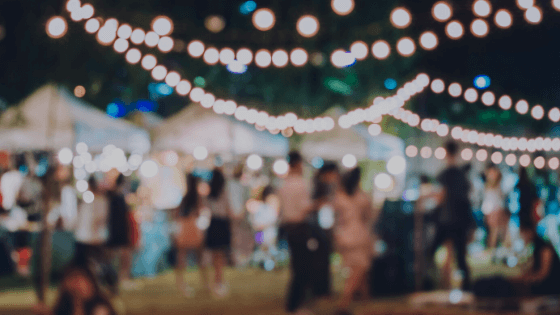 Little Arrow Outdoor Resort's Fun Activities for 2020!
September Events
September 25th – 26th:

Blue Ribbon Country Fair & Townsend Heritage Fall Festival

What: The Fall Festival and Old Timers day at the Townsend Visitors Center celebrates the traditional music, crafts, Appalachian skills, and heritage of Townsend, East Tennessee, and the Great Smoky Mountains. Featured activities are bluegrass music concerts, clogging, jam sessions on the porch, demonstrations of cornmeal making, blacksmithing, apple butter, basketry, weaving, spinning, and quilting. Arts and crafts booths include woodworking, pottery, jewelry, hand-sewing, and painting. There is an antique tractor show and guest storytellers share tales of the mountains.
Where: Townsend Visitors Center
Cost: Parking is $10/day or catch the FREE shuttle
October Events
October 3rd: Craft Class by Smoky Mtn. Livin'

What: Take home a unique and one-of-a-kind wood stand craft!
Where: Club House at Little Arrow Outdoor Resort
Time: 7:30pm
Cost: $25/person. Sign up here!
October 10th: Chili Cook-Off

What: Do you think you have the best chili recipe? Well get ready to put it to the test! We will have some spicy prizes for the top chili recipe!
Where: Little Arrow Outdoor Resort
Cost: Free for guests only
October 24th: Trick-or-Treating Monster Mash

What: Trick-or-Treat throughout the campground and wear your best costume!
Where: Little Arrow Outdoor Resort
Cost: Free for guests only
October 30th – 31st: Halloween Bash

What: Our Halloween Bash is back again! Featuring, pumpkin carving, camper decorating, best costume, trick-or-treating, and a dance party! Don't miss this fun event!
Where: Little Arrow Outdoor Resort
Cost: Free for guests only
November Events
November 6th – 7th:

Grains & Grits

What: The Townsend Grains and Grits Festival is a festival of southern spirits and gourmet grub. We have created a unique opportunity for you to experience our thriving craft spirits and gourmet food community, while discovering some oft he region's legendary distillers and blenders, taking place in the Peaceful Side of the Smokies.
Where:

Friday Night: VIP Party at Little Arrow for distillers only
Saturday: Grains & Grits Festival at Townsend Visitor's Center

Cost: Tickets $65-$75
November 8th:

Cades Cove Loop Lope

What: The Friends of the Smokies puts on the only footrace (5K and 10K) that is allowed to happen in the National Park, and Cades Cove no less! Come experience the splendor of Cades Cove while raising funds to protect it for future generations!
Where: Cades Cove
Cost: $75
November 13th & 14th: Great Smoky Mountain Food Truck Festival

What: Feast on this! Little Arrow Outdoor Resort is hosting the 2020 Great Smoky Mountain Food Truck Festival on November 13th and 14th! Featuring the best food trucks in East Tennessee all in one place! The Great Smoky Mountain Food Truck Festival is a unique, family friendly, culinary event for all ages.
Where: Little Arrow Outdoor Resort
Cost: VIP Tickets for Friday are $65 each, Saturday tickets are $5 each
November 26th: Campsgiving

What: Every year at lunch for Thanksgiving, we make the turkey, and you bring the sides! This annual event is a great time to gather around the campground and be thankful!
Where: Little Arrow Outdoor Resort for lunch
Cost: Free for guests only, we just ask that you bring a side!
December Events
December 6th:

Townsend Christmas Parade

What: Christmas time in Townsend! Come down to the parkway for a fun parade! Line up is at 1 p.m. with the parade beginning at 2:30 p.m.
Where: Townsend, TN
Cost: Free
TBD: Tis the Season of Touring Townsend
December 31st: New Year's Eve Party

What: Count down the New Year with us! Details are TBD!
Where: Little Arrow Outdoor Resort
Cost: Free for guests only
Details
Date:
September 25, 2020 to September 2, 2021
Event Category:
Event
,
Family Fun
Locations
central teepee
little arrow outdoor resort
118 stables drive
townsend, tennessee
Phone:
+1 865.123.4567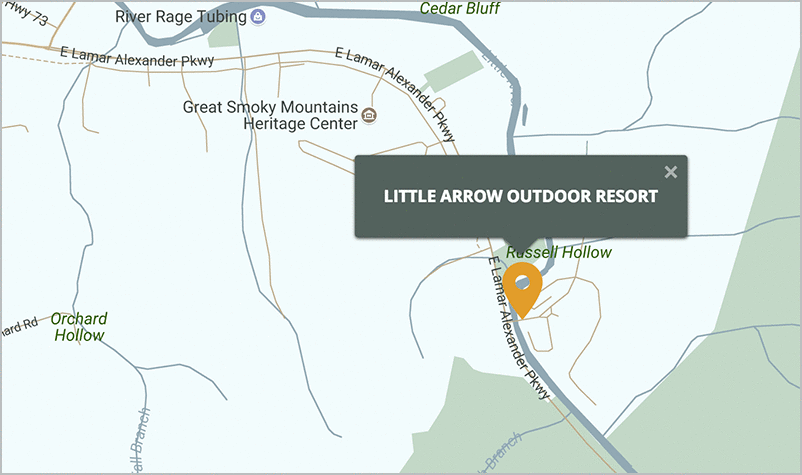 SUBSCRIBE TO OUR NEWSLETTER